ePrescribe
Purpose
Each year more than 32 million prescriptions are filled in Alberta based on manual signatures on paper prescriptions. Paper-based prescriptions take more time to be completed and also increase the chance of human error. By providing information electronically, through real-time system-to-system messaging, ePrescribe will help health care providers provide services to patients in a more efficient manner. ePrescribe will also improve patient safety by reducing the opportunity for these errors resulting from handwritten and oral communication.
The transition from paper to electronic prescribing will include replacing paper signatures with secure electronic signatures and using real time messaging between Electronic Medical Record (EMR) systems, Pharmacy Systems, and the provincial EHR drug repository.
Objectives
The key focus of ePrescribe is to remove the requirement for paper in the prescribing and dispensing process. This change will be supported by completing the following business objectives:
Working with stakeholders to define high level business and functional requirements;
Working with federal and provincial governing bodies to remove legal and regulatory barriers that may impede the implementation of ePrescribe in Alberta;
Working with regulatory bodies to ensure that professional standards of practice for prescribers and dispensers support electronic prescribing;
Working with EMR and pharmacy system vendors to ensure a smooth transition to electronic prescribing;
Piloting ePrescribe with clinics using enabled EMRs 
Implementing ePrescribe province-wide; and
Planning for future phases of the initiative.
Current Status
e-Prescribe will be implemented according to the following phases:
Phase 1: Initiative Definition and Conceptual Design 
Phase 2: Project Planning and Initiation 
Phase 3: Requirements Analysis, Detailed Architecture Definition, and pilot
Phase 4: Province-wide deployment of the technical solution
Phase 5: Evaluation, and planning for future phases
ePrescribe is currently in phase 3.
Future Developments
Future phases of this project will consider the following enhancements:
Technological Support for the Triplicate Prescription Program.
Eliminate the dependency on paper in the dispensing processes which occurs within the pharmacy.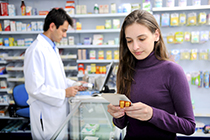 ePrescribe is currently in pilot. Once the pilot has been evaluated, Alberta Netcare will expand ePrescribe to additional communities.