Immunizations eDemo
eDemos provide visual demonstrations on how to complete key tasks in the application. The following eDemos are focused on Immunization and how to read the Immunizations record. Hover-over the link and click on the link to open the eDemo.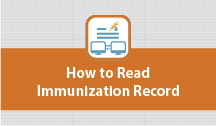 How to read a Patient's Immunization History
Learn how to access and read the immunization records.