Benefits to Health Professionals
Alberta Netcare users have already experienced many of the benefits the EHR has to offer. Alberta Netcare supports health professionals in a number of ways:
Better information about your patients' health
Near-instant access to up-to-date patient profiles. 
Essential information available at all points of care. 
Consolidated information from facilities across the province. 
View results from tests requested by other care providers. 
Be aware of medications that have been prescribed and dispensed to your patient.
Diagnose and treat more quickly
Immediate access to patient information means you can respond more quickly and appropriately to emergencies.
Better communication among health professionals
Seamless electronic record transfer eliminates the need to transfer paper files. 
Records are legible, current and consistent as handwritten data is eliminated. 
Shared understanding of patients' health supports collaboration among health care providers.
Save your time for your patients
Fewer systems to consult for health information. 
Time saved on administrative tasks will enable you to devote more time to your patients.
Health monitoring support
Identify trends and analyze data to support decision-making.
Adverse reaction alerts reduce the potential for harmful allergy or drug interactions.
Future benefits
Shared care plans that can be monitored online will lead to better management of chronic diseases.
Electronic referrals will expedite appointment bookings and reduce wait times.
Electronic scheduling will allow patients to request their own appointment times and navigate the health system more easily.
Electronic prescribing will reduce the need for paper prescriptions, ensure that patient's medication profiles are complete and accurate, and reduce prescription fraud and double doctoring.
An Important Tool for Health Professionals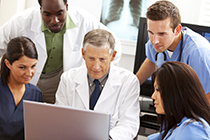 Supporting Research:
In 2006, Canada Health Infoway developed a framework for evaluating the benefits of electronic health records across Canada. Click here for more information about the Infoway Benefits Framework.