Laboratory Standards
Purpose
This project will establish provincial standards for laboratory codes and terminologies to normalize transmission of data to the EHR and other clinical systems such as physician Electronic Medical Records (EMRs) when they are able to consume the new lab messages. This will improve data quality and reliability and will facilitate enhanced clinical decision-making.
Multiple laboratory information systems are used within Alberta to place laboratory orders, track workflows and report laboratory and pathology results. Over time, each system has evolved to meet the changing requirements of client sites. This has resulted in a number of different code sets and conflicting terminology used to refer to test panels, orders and results. This project will create a set of provincial standards for codes and terminology for lab systems, which will result in a consolidated view of results for clinicians, regardless of the lab that conducted the tests. 
Objectives
The following objectives will support the transition to province-wide laboratory standards and terminology adoption. The project will be conducted in two phases:
Phase 1: Planning and detailed design
document the current state of electronic laboratory messaging in Alberta;
define the ideal target state for the Alberta medical laboratory domain (architectural, technical, business and governance components);
evaluate and select the terminology and terminology mapping tool;
detail the solution design that achieves the target state; and
investigate and identify the impact of changes to key stakeholder groups.
Phase 2: Implementation
develop and implement the standardized code sets and terminology for provincial laboratory results; 
conduct mapping of local code changes to provincial standards;
transform the lab data feed to include CDA messaging;
provide the new messages to the CD/OM system;
provide the new messages to the Netcare system (this also includes the development of the new lab repository and conversion of historical data);
complete necessary changes to provide the new messages to the FCC EMR when it has been implemented in the future;
adopt the needed business practice change and the needed governance change; and 
deploy the recommended architecture, infrastructure, and technology.
Current Status
This project is currently in the project planning and detailed design phase.
Future Phases
This project will set the foundation for the future adoption and implementation of pan-Canadian messaging standards, and projects which will enable physicians to trend patient results based on the standards that will be put in place.
Future projects will also include the adoption of a provincial lab system. This will facilitate standardization of test codes and reporting practices, and allow for standardized data feeds to reporting and clinical applications.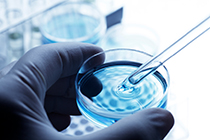 When lab reports use different terminology to communicate results, it takes more time for clinicians to interpret the information and make decisions about a patient's treatment.