eReferral
Alberta Netcare eReferral  
eReferral is an electronic referral management system that allows physicians and clinic support staff to create, submit, track and manage referrals online through Alberta Netcare.
eReferral includes:
Advice Request – Non-urgent medical questions answered by a specialist within five calendar days. In many cases, an Advice Request is all clinicians need to avoid an in-person specialist appointment and continue managing the patient in their medical home.
Consult Request – A non-urgent request for an in-person specialist appointment. With a Consult Request, a referring provider can see approximate wait times for each specialty and choose a "Next Available" appointment with any specialist in their Zone.
For more information, including training resources and updates, go to eReferral online.

Alberta Netcare eReferral was developed by clinicians, for clinicians.  
eReferral leverages existing information from Alberta Netcare (such as demographics, labs, and diagnostic imaging) into a referral form that can be saved as a draft, checked for completeness and tracked in real time as it is submitted, received, triaged and scheduled for an appointment.               
Status   
eReferral Users May Receive Provider Notification Emails on Submitted Requests
As of March 3, in progress referrals made to FAST are being transferred to Alberta Netcare eReferral as part of Electronic Referral Solution work (see story above for more information). In progress referrals will not lose their place on the waitlist when entered into eReferral. All new referrals submitted to FAST will also be entered and managed in eReferral moving forward.
As a result, eReferral users who have their Provider Notifications enabled may receive an email (or emails) about referrals that have already been submitted via fax. If you do, there is no action required. You can go to the My Referrals dashboard within eReferral to see the status of the referral and continue to track it through its life cycle. For eReferral users who have not enabled their Provider Notifications, they will not receive these emails. 
If you have any questions, please email access.ereferral@ahs.ca

February 24, 2023 - New changes to eReferral now live
On Feb. 23, 2023, several eReferral updates were made that affect referring, receiving and triage users. While most of these changes are minor, you may notice them when using eReferral.
Change highlights:
For Consult Requests – creating users no longer have to indicate where each required investigation is located. A new checkbox under Mandatory Requirements allows you to confirm all labs and diagnostic imaging are included in your attached and/or linked documents.
Standard consult form used for all referrals for orthopedics; the Provincial Hip & Knee Consult Request form has been removed.
New Consult Request reasons for referral were added for orthopedic surgery and urology as part of the Alberta Surgical Initiative. Starting today, you can submit Consult Requests to Facilitated Access to Specialized Treatment (FAST) specialties using eReferral. Note: Using eReferral is not mandatory for all referrals, except for Edmonton Zone urology  
OBS-GYN Maternal Fetal Medicine and Surgery – General Surgery (Edmonton Zone only) have been removed from eReferral Advice Request.
New Provider Notification option for referring, receiving and triage users added.
For a detailed list of changes coming for each user role, review this document. 
Resources
A variety of learning resources have been developed to support clinicians as they learn to use eReferral. Visit our Resources page for additional information.
Contacts
eReferral Training Resources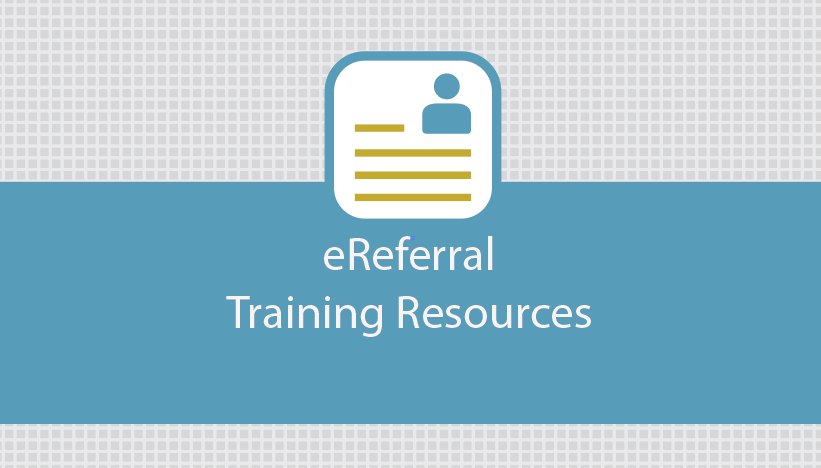 Bulletins & News Updates               

Newsletter

For more information about eReferral, join our quarterly newsletter. You can unsubscribe at any time.   
Videos