Shared Health Record
Purpose
It is estimated that 70–80% of health services are delivered in community settings, such as through family physicians or specialists. Currently there is no mechanism within the provincial EHR that collects information from these community sites. Without this information, it is difficult for clinicians to gain a complete understanding of their patients' health. Once implemented, SHR will integrate physician office Electronic Medical Record systems (EMRs) with the provincial EHR, so that this critical information can be shared across the province.
Objectives (Release 1)
The first SHR Release will establish a foundation for sharing clinical information between physician office EMRs and the provincial EHR. The information that will be collected from this release will be basic encounter information.
The key business objectives of the SHR Release 1 are to:
collect patient encounter information from physician offices;
make patient encounter information available province-wide to EHR users;
enable physician office Electronic Medical Records (EMRs) to download clinical documents from the EHR;
establish a foundation for further sharing of clinical information between physician office EMRS with the EHR;
engage with EMR vendor(s) to build SHR functionality within their product, and conduct a production pilot at a physician clinic;
complete an evaluation of the production pilot;
transition to operations for SHR province-wide rollout; and
complete a current state summary of items for potential inclusion in the next release of the SHR initiative.
Current Status
The Release 1 project includes the project planning, detailed design, build, testing and implementation of EHR and EMR capability.
The project is currently in the implementation stage for the EHR portion of the solution. The schedule for vendor development has not been confirmed.
Future Developments
Future releases are expected to include extensions to SHR functions and other core components that are part of the messaging standards.  The priorities for SHR will be determined by the identification of core persistent EHR data elements.
Immunizations, alerts and screenings
EMR to EMR referrals
Care plans and support for CDM
Support for the MyHealth.Alberta.ca Personal Health Record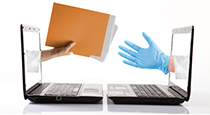 The Shared Health Record (SHR) is a multi-phased initiative that will support clinical decision making by expanding the information available in the EHR.