eReferral
Alberta Netcare eReferral was developed by clinicians, for clinicians.
eReferral leverages existing information from Alberta Netcare (such as demographics, labs, and diagnostic imaging) into a referral form that can be saved as a draft, checked for completeness and tracked in real time as it is submitted, received, triaged and scheduled for an appointment.       
Status   
July 18, 2019 — Family Medicine - Transgender Care added to Advice Request & eReferral Enhancements
Transgender Care was added as a new specialty accepting eReferral Advice Requests province-wide. Physicians and clinical support staff can now submit non-urgent transgender health general consultation questions and receive a response from a Transgender Care specialist within five calendar days.

In addition to this, new enhancements were made to Alberta Netcare eReferral. These enhancements are directly related to the standard eReferral Advice Request form, some eReferral workflows and some eReferral worklists, and may improve how referring and responding providers use and search for information on the platform. For more information, read the Information Notice.

For a complete list of the specialties and their reasons for referral that are available on eReferral Advice and Consult Request, please click the button below: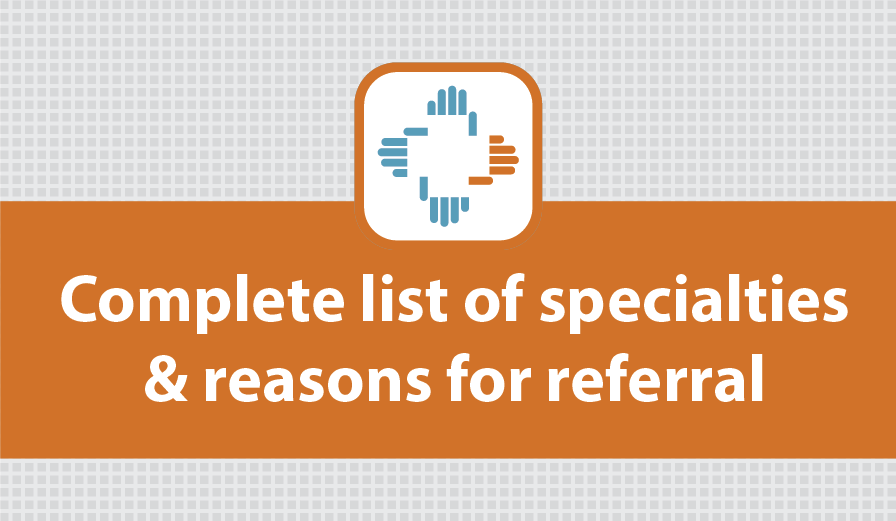 Provider Notifications now live
On May 30, 2019, Provider Notifications went live. eReferral users will now receive email notifications when an activity occurs on an Advice or Consult Request.
To ensure you are receiving Provider Notifications, please confirm or update your email address to a current preferred email address (this is the address that notifications will be sent to). For instructions, please visit the eReferral Provider Notifications Portal.
You will be automatically subscribed by default to a notification list based on your role (i.e. whether you are a referrer, receiver or triage user), but you can customize these subscriptions at any time.
For training support, visit the Alberta Netcare Learning Centre for Quick References or call the eHealth Netcare Support Services team at 1-855-643-8649 or email ehealthsupport@cgi.com
For more information about Provider Notifications, go to the online portal
History
eReferral Advice Requests were enabled in October 2016 for Nephrology, September 2017 for Urology (Northern Alberta Urology Centre), December 2017 for Endocrinology, Gastroenterology, Obstetrics and Gynecology, Pulmonary Medicine and Spinal Neurosurgery and in February 2018 for AMH - Addiction Medicine - Opiate Agonist Therapy and General Internal Medicine.    
Resources
A variety of learning resources have been developed to support clinicians as they learn to use eReferral. Visit our Resources page for additional information.
Contacts
Videos

Bulletins & News Updates 

Newsletter
For more information about eReferral, join our quarterly newsletter. You can unsubscribe at any time.
Provider Notifications